Title:
Nura: Rise of the Yokai Clan ~ (a.k.a. Nurarihyon no Mago)
Distributor:
Studio Deen
Genre
(s):
yōkai
, demon, drama, adventure, supernatural, spirit
Age Rating:
13+
Episodes:
26
Aired:
July 5, 2010

–

December 27, 2010
Official Site:
at
http://www.deen.co.jp
Authors Rating: 7/10
Rikuo Nura is three parts human to a quarter
yōkai
(demon). Because he is only a quarter yōkai, Rikuo is able to turn into his yōkai form after sunset. Rikuo turns back into his human self when the sun rises without choice. He lives in a japanese house that is inhabited by many spirits, along with his yōkai grandfather (the head of his spirit clan Nura). Trying to escape his fate, he carries out good deeds in order to avoid becoming a full-time yōkai, despite his grandfather's wish that Rikuo succeed him as master of the Nura
yōkai
clan. Rikuo is
different, because he helps humans rather than consumes them. He eventually comes to terms with his demon blood and decides to take up the position of Young Head of the Nura house. Multiple factions aim to stop him or usurp his position, and he must gather friends and allies, a new Hyakki Yakō (night parade of 100 demons) under his banner of "Fear".
Growing up can be a tough experience for many, but it is a lot worse when you are consistently in somebody's shadow. It seems that teenage angst is not all that different in the supernatural realm from the human one...
Nura: Rise of the Yokai Clan follows the life of Rikuo Nura, a 12-year-old boy who is three-quarters human and a quarter
yōkai
.
As the grandson of Nurarihyon (the supreme commander of the once most powerful clan of

yōkai)

Rikuo is the successor of the clan, yet to take up the position of his grandfather. Human at heart, in the first few episodes Rikuo initially opposes the evil nature of the

yōkai

and rejects his role as the next head of the Nura clan, often stating that he never wants to become a
yōkai because of what it means
. However, as he comes to terms with his true nature and discovers he can actually help humans rather than destroy them, by leading his demon clan, Rikuo embraces his destiny and takes on the challenge of leadership. In so doing, not only must he prove himself a worthy leader by assembling and commanding his very own
yōkai
army, but Rikuo will also have to contend with different factions and enemies looking to relieve him of his position.
Rikuo, by day, looks like an ordinary teenager and like any other typical junior high student. He has many human school friends, but little do they know about Rikuo's night transformation and double life, which he does his utmost to keep them from! When Rikuo transforms he wields great powers that can strike fear in to his enemies (human and

yōkai alike)

, render him invisible, as well as burn and freeze adversaries. He lives with his demon grandfather in an ancient Japanese mansion, with demonic minions at their service, with may different kinds and varying degrees of power.
Nura: Rise of the Yokai Clan is based on the manga series of the same title by artist Hiroshi Shiibashi. As Shiibashi's maiden work, Nura: Rise of the Yokai Clan debuted as a 'one-shot' story in 2007 and won the top prize in the 'Future Gold Cup' as voted by readers as a work to watch out for. Since then, Shiibashi developed his one-shot story into the full-fledged 'Nura: Rise of the Yokai Clan' manga series, which is ongoing.
The anime itself, I feel, leaves much to be desired. Don't get me wrong, the character design is superb, however the action sequences could be far better. They feel very low budget and there is much lack of detail. Quite easily compared to an old episode of batman where by a punch followed by a *POW* is supposed to be thrilling. I myself would like to see some fluidity to the fight scenes and less 'things spin, shoot, smack and you get to see the end result.' That aside the storyline is compelling and the huge amount of different
yōkai keeps the viewer entertained. This anime is very reminiscent of one that is less focused on the action and more on the journey. I feel that I should state that the action sequences are by no means terrible. I mean, I have seen worse, *cough* - pokemon - *cough*,
yet for something aimed at a little older age group than the previously hinted... There should be a little more production value.
The characters are often hard to relate to, with no 'tear-jerker' moments either. There are so many of them that focusing on just one or a few has been difficult, for the shows producers and viewers alike, and has left many characters under-developed. This could be rectified by taking the time to give a few of the main characters their own arcs, rather than giving side characters/
yōkai
arcs that then after their lovely development fade into the background once more! Sense anyone? The problem is that this in no way appears to affect the impact that the show had upon me. I just could not stop watching. I have seen much better anime's based around
yōkai, Karas as a prime example, yet the sheer amount and diversity of them was thrilling to watch. I mean yes some of them looked like July Bugs and others like moths, but there are some really original designs here!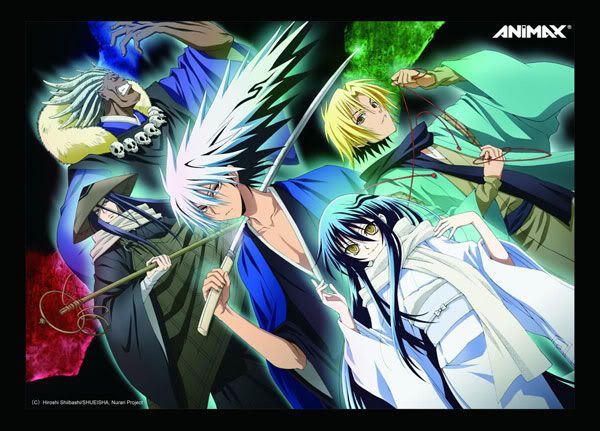 Nura: Rise of the Yokai Clan boasts a stellar voice cast led by top voice actor Jun Fukuyama (Code Geass – Lelouch of the Rebellion, Valkyria Chronicles) who brings to life protagonist Rikuo Nura. Fukuyama won the 'Best Actor' honour at Japan's first 'Seiyu (anime voice actor) Awards' in 2007.
Fans can also look out for the popular voice actress Aya Hirano (The Melancholy of Haruhi Suzumiya, Lucky Star, Death Note) who voices Ienaga Kana, Rikuo's childhood friend and neighbour who falls in love with him in his yokai form. Like Fukuyama, Hirano received the 2007 Seiyu 'Best Newcomer' award.
Produced by Studio Deen, which is responsible for hit anime TV series such as Vampire Knight, Guilty and Giant Killing, Nura: Rise of the Yokai Clan has proven so popular that a second season of the anime series is already currently being aired.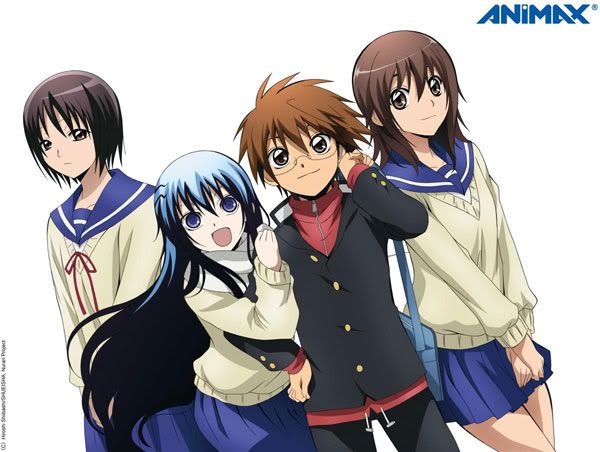 All in all I did want to give this anime a solid 6/10, however, I just could not bring myself too due to the fact that it had me watching episode after episode. There is really something addictive to this anime that keeps you coming back for more, even though it is a long way from being the best of them, or indeed a long way from my personal top twenty. I would strongly recommend watching if you have a spare 20 minutes or so. Just give this a try and although nothing about it will surprise you, you interest just may be peaked like mine.